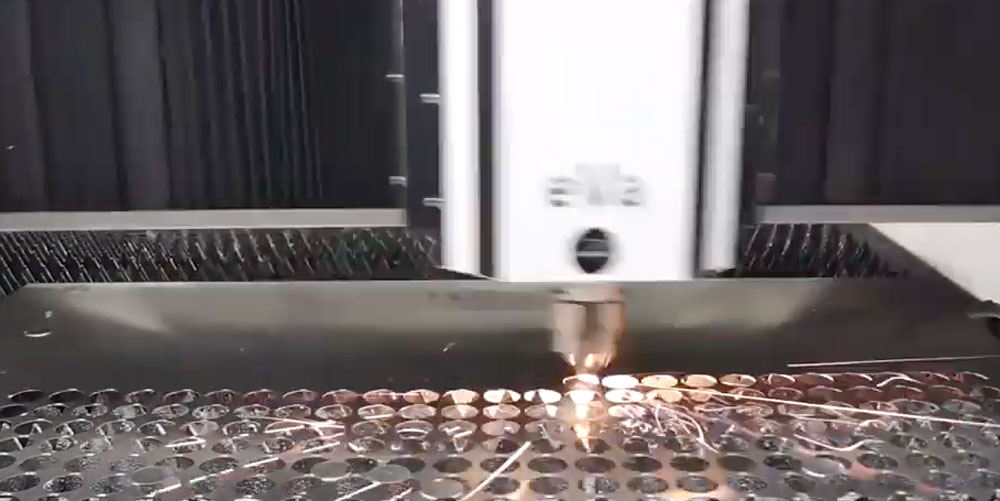 The adoption of high-powered fiber lasers in the range of 10 to 30 kW for cutting has rapidly grown in recent years. Fiber Laser manufacturers are shooting for more laser power and demand is expected to continue climbing.
Machines with power levels exceeding 10kW offer many benefits to the fabricator including reduced process times. Here are a few ways a fab shop can make the most of these powerful machines.
Optimize With Nesting Software
When cutting machines operate incredibly fast, everything else must function accordingly. Processing time is a big concern for fabricators and Nesting actually optimizes every stage of the process from preparation of parts to nesting, from generation of NC code to tool paths. Nesting algorithms orient the parts quickly and efficiently within the designated sheet format, thus saving time. Nesting plays a vital role in exploiting fiber laser benefits to reap optimal material utilization and related costs.
Powernest, a powerful and comprehensive application for automatic nesting from AlmaCAM, a leading provider of CAD/CAM software, offers fabricators a flexible, high performance solution to reduce raw material costs and improve productivity. It is also available as a subscription where you simply upload your CAD files to the cloud-based application for nesting.
Keeping Pace with Automation
Automation brings with it breakthrough benefits to fiber laser operations. Various production issues on the floor are tackled efficiently as compared to manual operation. For example, a conventional hydraulic shuttle table change-over can take upwards of 30 seconds. In comparison, a shuttle exchange for an Eagle Fiber Laser machine takes only nine seconds, thus drastically saving time.
Automating the load and unload process provides consistent and predictable results and permits running your machine unattended for an extra shift for example. Material storage adds another level of efficiency by permitting multiple jobs to run in sequence, again unattended.
Along with increased production automation solutions have a substantial Return on Investment (ROI). Workplace injuries are also minimized, ensuring a safer environment and increased labor productivity.
Assist Gas for Best Results
Moving forward with high-powered lasers also means thinking differently. Assist Gasses allow the laser to cut a range of material thicknesses efficiently. They refine the cutting process and boost product quality.
The common assist gasses are nitrogen, oxygen, and compressed air. The right choice depends on the material type and thicknesses that fabricators process.
The popularity of High-performance compressed air (Also known as High-performance Air Systems HPAS), is increasing due to low procurement costs and high-quality cuts. For example, with higher-powered Fiber lasers, compressed air can be effectively used with metals between ⅜" to ½" thickness while enabling faster cut speeds than oxygen assist.
Upgrade Supporting Systems
Due to higher throughput fabricators must ensure that supporting systems are upgraded for smooth operation. Remember, with great power comes great responsibility! Gas delivery and consumables will be in higher demand as will material storage and delivery. Most importantly, the high volume of cutting will tax your conveyor system and pallet slats. Clean slag and waste from the bottom of the machine weekly and ensure you have spare slats available.
High-powered Lasers are surely making an impact as demand for these machines continues to climb. They significantly reduce cost per part and lead to higher profitability. It is important though to support them with the right technology and tools to augment their performance and reap the benefits.